Vi ønsker Tobian Soundsystems velkommen i sortimentet. Vi gleder oss til å stifte bekjentskap med hornhøyttalere og rørforsterkere i verdensklasse. High End for musikkelskere - Håndlaget i sveits!
Dette er forsterkere med lav utgangseffekt og høyttalere med følsomhet rundt 100 db/W
Tobians nyeste serie av høyttalere heter FH serien og bruker kompresjonsdriver i toppen og 12,15, 18 og 21" drivere i bass - avhengig av hva man velger.
Monitor 20FH Fullrange Horn from Nov. 2019 EUR 279'900
Monitor 18FH Fullrange Horn EUR 129'900
Monitor 15FH Fullrange Horn EUR 55'900
Monitor 12FH Fullrange Horn EUR 36'900
Monitor 10FH Fullrange Horn from Nov. 2019 EUR 24'900
INTEGRERT FORSTERKER
R 40 / 300B
Pre Amp:
Power Amp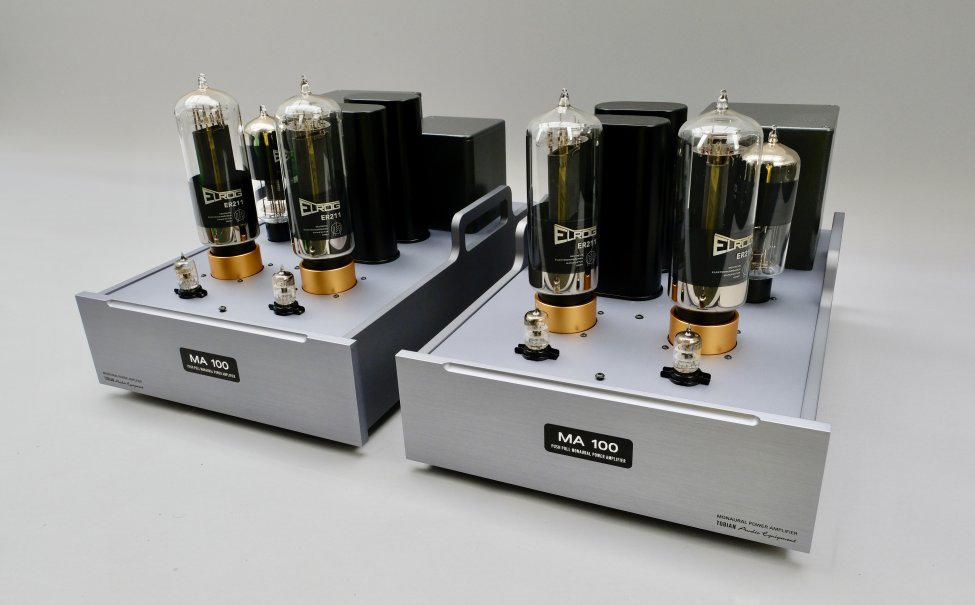 Info fra produsenten:
My amplifiers for example benefit from the unique expertise of the man who is responsible for my transformers. His 50 years' of experience from the heydays of tube amps until today, cannot be matched elsewhere. A while ago we had the chance to integrate another veteran transformer specialist into the team. This man started with Peerless in the 1960s and his hands know exactly what to do. Thus we are fortunate to be able to blend Swiss and German knowledge and precision with American engineering. This is not written in the books, it is written in the hands and hearts of the experts, because they live this trade and keep their secrets to themselves. However, in the end all is revealed in my products and the beautiful music they produce. They say the heart of a tube amp is in the output transformer. But what kind of output transformer?
Our wire is very slowly dragged and carefully isolated with natural resin and then baked. The next step is the alignment of the wire on the core. The core of the transformer is made of a special, grain oriented steel, that only one company in the world makes – in Switzerland. Each layer of oval-section wire is then hammered into one homogenous surface. It is along the outside of this augmented surface that the signal will travel. Each layer is then isolated with mu-metal shielding before the next layer goes on. After a transformer is finished, it is submerged in natural resin, and baked. Every step of the process, the materials, the execution, the duration of each phase, the precision that only comes from experience, turns these transformers into something you cannot just buy. You have to be dedicated to have them made like this. It's as if they are dreamt into reality. Put your hand on one of those transformers while the amp is on – are you sure it's really on? You cannot tell. Like driving a Bentley: only when you look at the dashboard do you realize how fast you are really going.
My products incorporate no compromises. If I can't find the proper part for the job, I have it manufactured. Look at this volume pot, custom made from ELMA Suisse for me: 47 steps, carbon comp resistors, hard gold contacts. Touch it, use it and you will feel the quality instantly. Thus the development of a new product may take up to 2 years and many prototypes before I give my final go ahead. In the end, this careful and sometimes exhausting development process is needed, because you will hear it.
Loudspeakers are your final window to the music. A colleague of the famous Jazz bassist Eddie Gomez once said about his occasionally overly-technical playing: "Sometimes I want to remind him, that the bass is made out of wood." That is what I think when I listen to a lot of new loudspeakers. Most of them are entirely made out of fibreboard.
We use real wood for our loudspeakers. But history and the trade of instrument makers tells us that there is no use in working with blocks of solid hardwood. The beauty lies in the mix of different sizes and textures of boards from the same wood. These are glued and fitted and put together by a master craftsman who restores valuable musical instruments. Each step again takes time and expertise. Rare and special real wood veneers are carefully chosen and composed. Mythical and very particular trees are sourced for their properties and beauty.
The same goes for the drivers and crossovers. We have all the individual parts of the drivers made for us and use special components to build exactly the driver we want for a particular use in a particular cabinet. My goal is to always utilize the advantages of all the materials, combining them to achieve the utterly musical and believable presentation that Tobian is famous for.
Mvh
Tom Egil