Michael Fremer har testet EMT's nye RIAA, og EMT JSD Titan pickup.
-Michael Fremer:
"I sat fully engaged in the entire after-hours concert, transported to the nightclub filled with Nat's celebrity friends—who couldn't attend the earlier shows because they were doing the same thing Nat was, at other Las Vegas nightclubs. Through the 128, Nat's cover of "I Wish You Love," a sonic and musical treat on which he's accompanied by lush strings on one side and mellow woodwinds, muted brass, and double bass on the other, sounded better than I'd ever heard it."
Hele testen kan leses her:
https://www.stereophile.com/content/emt-128-phono-preamplifier
Her er deler av testen og litt generell info.
The EMT 128
This new EMT phono preamplifier began life in 1985 as a project to replace the phono stage found inside the aforementioned EMT broadcast turntables. Mr. Huber told me he contacted the now-retired project leader and convinced him to complete the design's electronic component. Huber's team did the mechanical and vibration-control work. The printed circuit board is produced in Germany.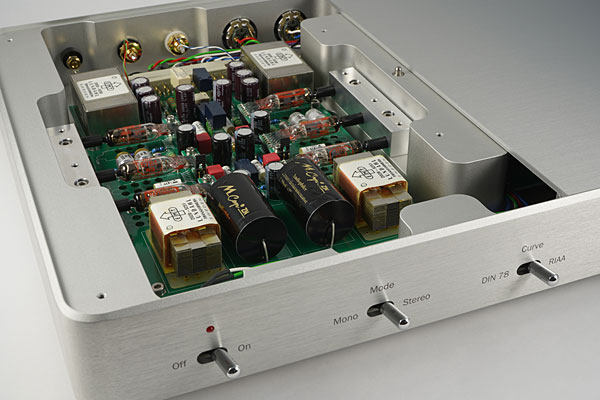 In function and appearance, the $12,830 - 128 is the opposite of the versatile, lab-like JPA 66. As for which is the cooler-looking design, I'd vote for both! The 128's sleek, low-profile chassis is milled out of a solid block of aluminum and utilizes "advanced air-flow and anti-vibration technology." It weighs 26.5lb.
The front panel features four toggle switches, one each for Off/On, Mono/Stereo, DIN 78/RIAA EQ (footnote 1), and Mute/Sound. The rear panel features one pair each of single-ended (RCA) inputs and balanced (XLR) outputs plus a banana plug–compatible ground lug receptacle on the right and an IEC connector and power switch on the left. Apart from a small identification plate, also on the rear panel, that's all there is on the outside.
Inside the chassis is a PCB populated with high-quality parts featuring a pair of Lundahl step-up transformers on the input side and a pair of Lundahl output transformers on the output side, between which are a pair of large Mundorf MCap ZN Classic Tin Foil "Audiophiler" capacitors. In between the step-up and output transformers are one trio per channel of Raytheon 5784WB subminiature, dual-pentode, wire-terminated tubes; EMT says these tubes were developed for "US missile technology."
There's no need to be concerned about tube availability. An online search shows that NOS (new old stock) 5784WB tubes are plentiful and cheap; I saw them for as little as $1.50. Online user reports claim great performance uniformity among tested samples and overall quiet. No doubt, in this critical application, HiFiction extensively tests each tube before soldering its bare wires to a small PCB fitted with pins that get inserted into sockets on the main board. Changing tubes, should it be necessary, is neither difficult nor time consuming and requires no soldering.
The instruction manual says the EMT 128 is "specifically designed for EMT MC cartridges," but it also states a range of useable cartridge impedances (12 to 30 ohms) and output voltages (0.3mV to 1mV). A pair of internally mounted jumpers lets you easily adjust gain to either 64dB (for cartridges with outputs ranging from 0.6mV to 1mV) or 70dB (for cartridges with outputs between 0.3mV and 0.5mV).
Conclusion
The EMT 128 exudes elegance of design and execution, inside and out. Its sound, too, exudes elegance. It goes about its business without calling too much attention to itself, producing black backgrounds that the best solid state units would be proud of. (I'm prepared for measurement humiliation.) The 128 combines an essentially neutral timbral balance with pristine and seemingly unlimited high-frequency extension and glorious transient clarity that resolves fine detail, free of spotlighting. The tubes provide a kiss of pleasing harmonic structure, especially in the midrange—welcome warmth without thickness or veil.
Some tube-based phono preamps shout "tubes." This one doesn't.
EMT 128 kan testes og er tilgjengelig for hjemlån.
Ved kjøp av EMT 128 gir vi deg også ekstra godt tilbud på EMT Pickuper.
mvh
Tom Egil
47832922