Lumin P1
har fått en lang rekke med suverene omtaler, og fronter siste utgave av The Absolute Sound. Vi har en lang rekke av storfornøyde kunder på P1, og dette er en alt i ett forforsterker/DAC/Streamer. Her slipper du unna en masse kabler - og får i tillegg et moderne og flott design.
For dere som ønsker å oppgradere en T2 eller D2 så gir vi full kjøpspris i innbytte ved kjøp av en P1.
LUMIN P1 Review and Cover!
Online and on newsstands now, the September 2022 edition of The Absolute Sound includes a Golden Ear award for LUMIN P1, a fantastic full review and an excellent breakdown of Leedh Processing.
Labelling P1, "Master of all trades" Robert Harley goes on to say:
----------------
"I've never had an easier experience setting up a music server."
"Leedh [volume control] is sonically "lossless," as the company claims. This is, to say the least, a significant achievement."
"P1 is an absolutely wonderful sounding and highly musical server. Even under the microscope of reference-level CH Precision electronics, Wilson Chronosonic XVX loudspeakers, and top-of-the-line cables and power conditioning, the P1 proved itself where it matters—communicating the music."
"P1 had the warmth, richness of tone color, freedom from grain, and three-dimensionality of a much more expensive product."
"Some audio components have a kind of ineffable magic that transcends "good sound" and enters the realm of communicating the music in a more powerful and involving way.... the P1 possesses this quality, delivering an experience that is musically authentic and immersive."
----------------
Subscribe to TAS Magazine here:
https://subscribe.pcspublink.com/websis/Order?p=ABSD&tr=JBR
TAS main website:
www.theabsolutesound.com
AUDIOPHILE MAGAZINE
June 2022
Audiophile Magazine have published their LUMIN P1 review presenting it with their "Grand Frisson" award!
During the review Joël Chevassus states:
the P1 worked especially well when paired with the Lumin Power Amp, definitely a match made in heaven.
with the 2L recording "Northern Timbre", the Lumin P1 provides an incredible presence. The attacks of both piano and violin are incredibly accurate.
on DSD recordings, the Lumin P1 unquestionably arises as a specialist in this matter.
P1 could easily claim to be the best bargain in the whole Lumin range of network players. As such, it clearly deserves our Grand Frisson Award!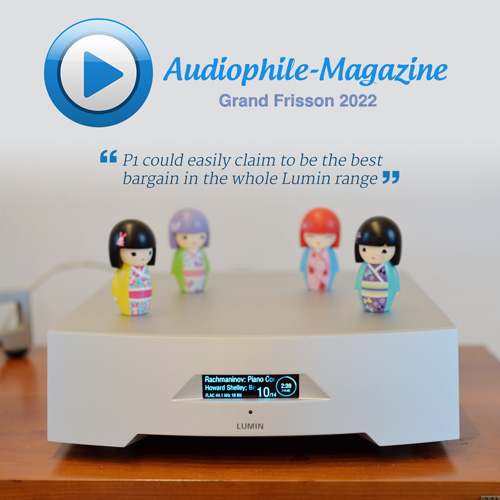 VIEW THE FULL FRENCH ONLINE REVIEW (PAGE 15 ONWARDS)
DOWNLOAD THE FULL REVIEW IN ENGLISH (7.2MB PDF)
HI-FI NEWS
June 2022
Hi-Fi News have published their LUMIN P1 review presenting it with their "Outstanding Product" award!
During the review (which includes lab measurements by Paul Miller) Andrew Everard states:
the P1 delivers a sound able to grab the attention from the off, and hold the listener rapt across long listening sessions.
the level of detail in the often-reflective pieces here simply breathtaking.
Excellent though the Ethernet feed may be, switching to fibre just brings that extra snap into focus, and details 'pop' a little more, further increasing the ability of the P1 to enthral with music both new and familiar.
the fact that it looks and sounds so striking, works so seamlessly with its control app, and has all the flexibility most could ever want, means it's an attractive buy. But above all, it's the addictive sound, from electropop to full orchestral force – and everything in between – that seals the deal.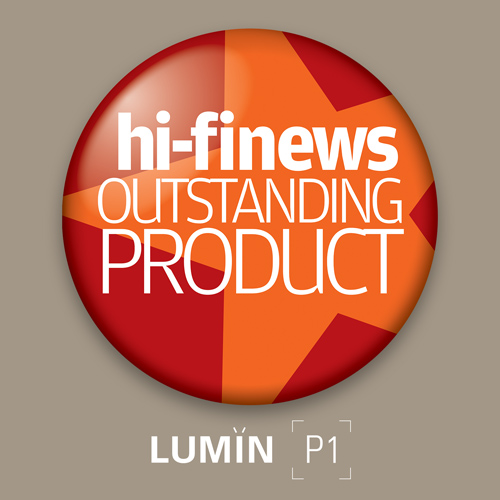 READ THE FULL REVIEW ONLINE
OR DOWNLOAD THE ORIGINAL MAGAZINE REVIEW (330KB PDF)
MONO & STEREO
May 2022
Mono & Stereo have published their long-term LUMIN P1 review, presenting it with their 'Upper Echelon' award.
During the review Matej Isak states:
The inner heart of the LUMIN P1 allowed the digital bits to decode Matador deeper and truer than I am used to in this price range. The P1 once again acted as a sonic beacon, signalling the importance of being in tune with the core of the music. It sounded anything but ordinary, much more engaging than expected, and allowed each Matador music sequence to unfold with the right gut feel.
There is something about the P1 and Leedh Processing combination that simply works. The speed, the purity, transparency and harmonic density is all there not only non-compromised, but a much better, next level upgrade.
Interestingly and I'm applauding this, the LUMIN P1 did work considerably better with fibre network input pushing the transparency, liquidness and overall presentation a bar higher.
For what it represents technically, how well-tuned it is to the reproduction of the unaltered music, and for the refined inclusion of new technologies I'm wholeheartedly giving LUMIN P1 2022 Mono and Stereo Upper Echelon Product Award.
LUMIN remains my clear recommendation for the contemporary music player/streamer/DAC regardless of the price tag.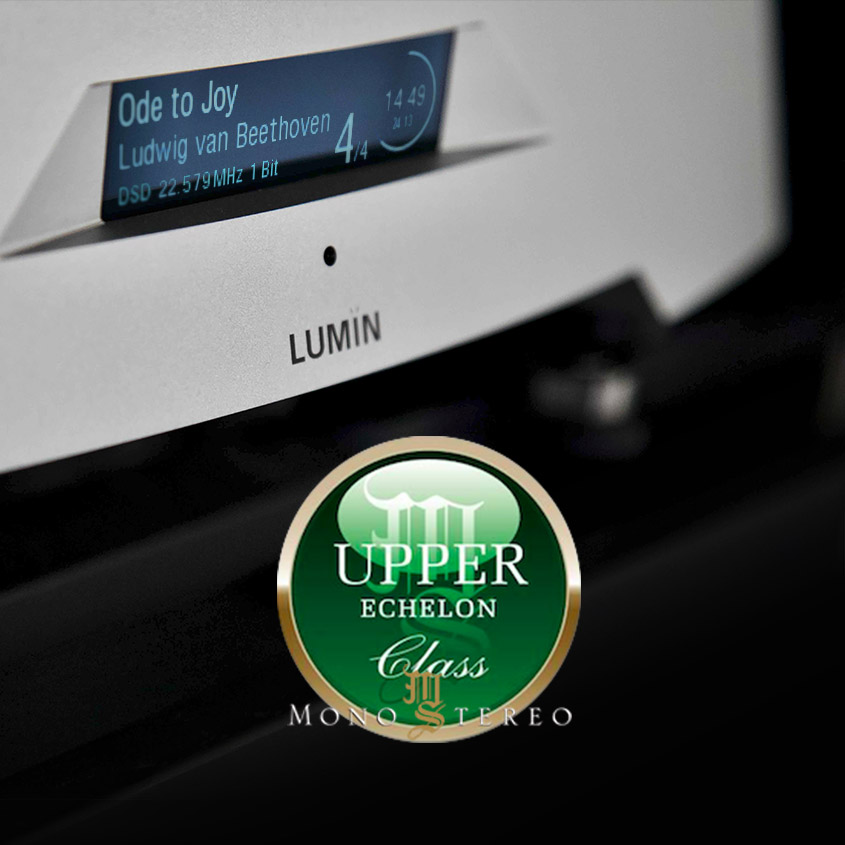 THE FULL REVIEW CAN BE READ ONLINE:
HIFI.NL
March 2022
HiFi.nl have published their LUMIN P1 review awarding it the full 5 stars.
During the review René van Es states:
The stereo image is wide from left to right, gives a lot of depth and also manages to impress with the image height. Music can completely detach itself from the speakers and attracts quite the attention.
beautiful round sound in which nothing is missing, but nothing is exaggerated either. Very natural and supple in nature.
Not cheap, but whoever has the amount for it gets a hell of a player.
Its classy styling, solid build, ease of use and stability under all conditions will resonate with you long after the installation.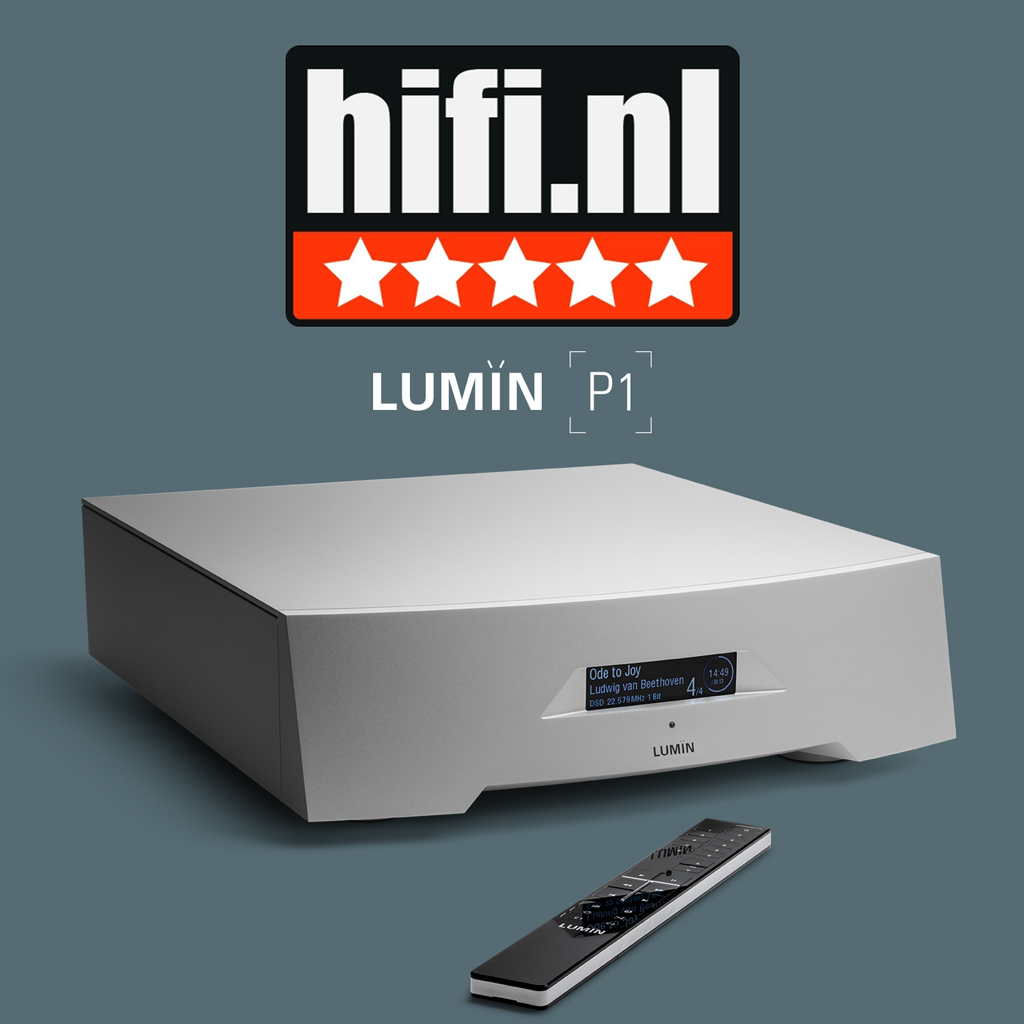 THE FULL DUTCH REVIEW CAN BE READ ONLINE:
STEREONET
March 2022
Stereonet have published their review of LUMIN P1, presenting it with their Applause Award.
During the review Mark Gusew states:
I was delighted to hear a smooth, solid and highly detailed sound, one that allowed the music to shine and didn't draw attention away from the content. The P1 has a fullness and completeness to the sound that's lacking from lesser devices, playing with a top to bottom sense of uniformity and evenness that elevates the P1 as a very good sounding playback device.
I am happy to report more sparkle, harmonic richness and colour by bypassing the preamplifier and using the P1 directly into a power amplifier.
If you own a LUMÏN P1 (or X1) [fibre networking] is the way to go and is a no-brainer upgrade.
Its classy styling, solid build, ease of use and stability under all conditions will resonate with you long after the installation.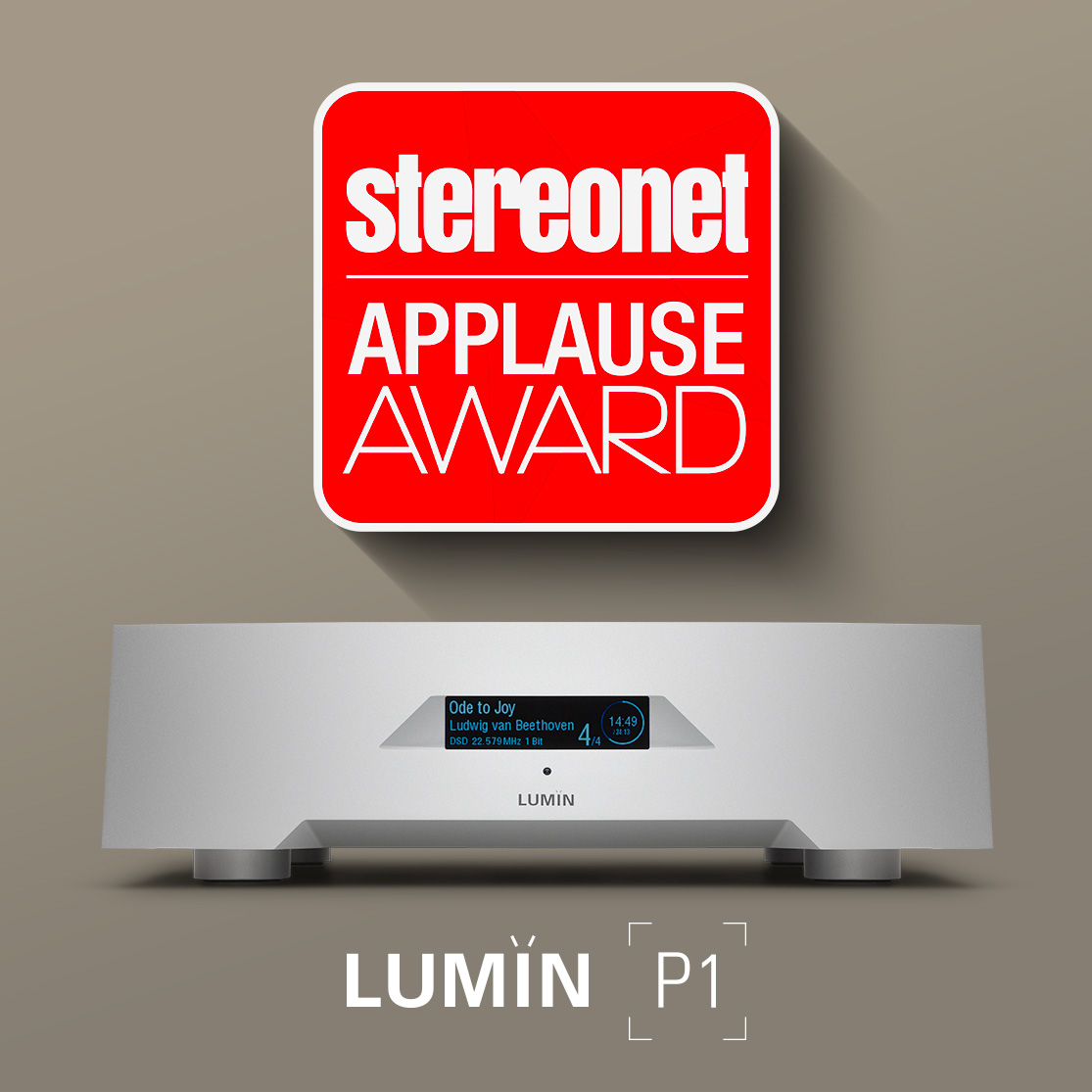 THE FULL ONLINE REVIEW CAN BE READ HERE
AUDIO.DE
March 2022
Audio.de have published their LUMIN P1 review, presenting it with their "Highlight" award.
During the review (which includes test lab measurements) Stefan Schickedanz states:
Rarely have such high-quality high-end audio components been designed to be so living room-friendly
HOLOGRAPHIC PERFORMANCE. The spatiality that the Lumin creates is its outstanding feature. The imaginary soundstage was so three-dimensional that one felt as if one could walk around the three-dimensional body of sound
Outstanding spatiality and transparency; very diverse
when someone comes along who, like Lumin with the P1, not only sets off high-tech or hi-res fireworks, but also plants the whole thing in an artfully crafted solid aluminum block, then the magic comes back
The all-rounder was particularly impressive when it came to punch. And the P1 also sounded excellent as an analog preamp, even if this is a collateral benefit of the digital genius. So the price is quite reasonable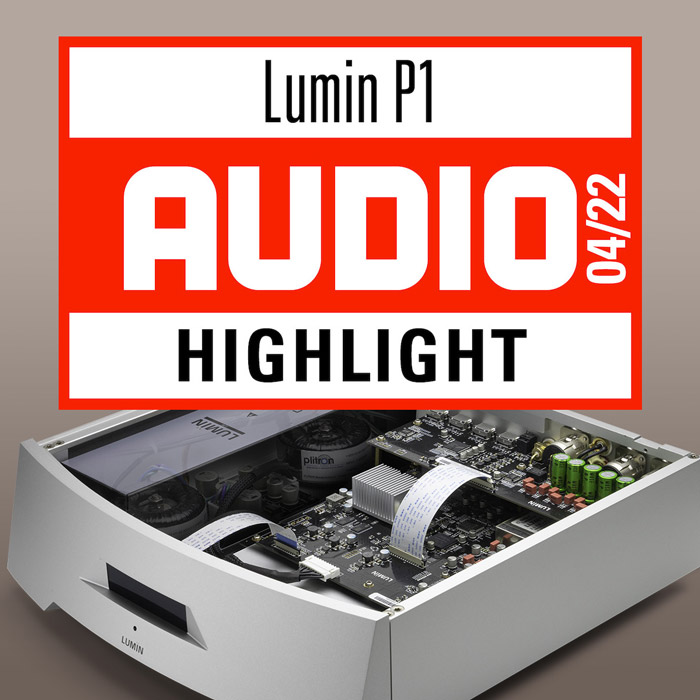 THE FULL GERMAN REVIEW CAN BE DOWNLOADED HERE (4MB PDF)
FAIRAUDIO
March 2022
fairaudio have published their LUMIN P1 review, presenting it with their "Highlight" award.
Testing P1 in many of its flexible system configurations, Martin Luding states:
The Lumin P1 represents a successful combination of lifestyle design, practical equipment and very high sound quality.
credibly traces the width and height of the virtual recording space and staggers musicians and instruments extraordinarily accurately in depth, the stage design appears free of any 'curtains'
Voices and instruments are drawn three-dimensionally in front of a black background
LUMIN P1 is an audiophile Swiss Army knife with practical solutions for almost all use case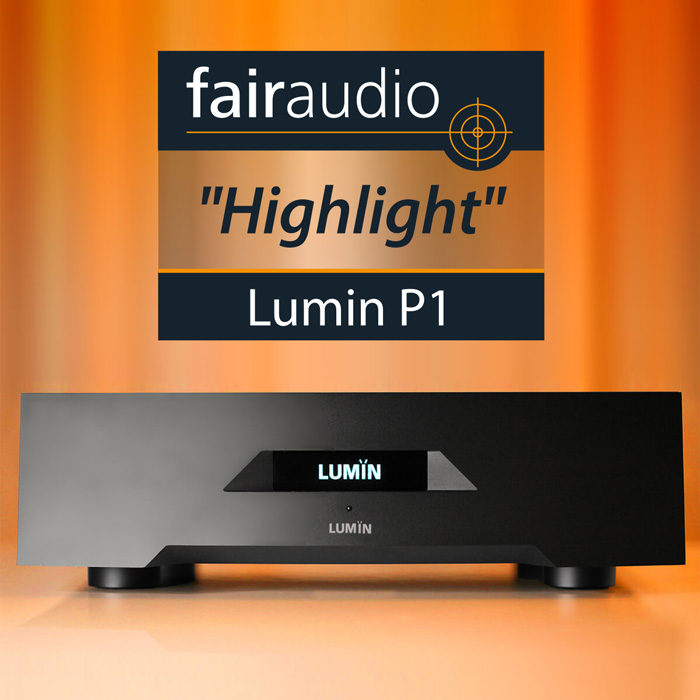 THE FULL GERMAN REVIEW CAN BE READ HERE
STEREOPHILE
March 2022
Stereophile magazine have published their LUMIN P1 review, awarding it 'Class A' in their famous Recommended Components list for 2022.
Class A: Best attainable sound for a component of its kind, almost without practical considerations; "the least musical compromise."
During the review John Atkinson includes a full set of measurements and concludes:
I very much enjoyed my time with Lumin's P1. Not only is it a superb-sounding D/A processor, but its transparent-sounding analog inputs and full video functionality are a welcome bonus.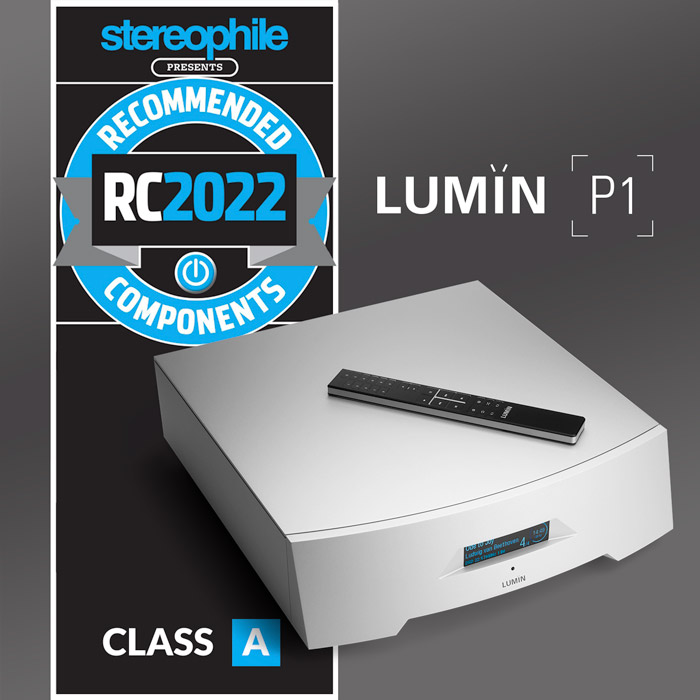 READ THE FULL REVIEW ONLINE
LITE MAGAZIN
February 2022
Lite Magazin have published their fantastic LUMIN P1 review. Awarding it their 'Referenzklasse' status with a score of 99/100
During the review Philipp Schneckenburger states:
Setting up the P1 is then wonderfully simple.
...the streaming DAC offers exceptionally good transparency.
There is no cold analysis here, but a wonderful overall picture
The combination of a good power supply, the high-quality double DACs and the complex volume algorithm enables the P1 to create an absolutely dark background.
Stylish, versatile and exceptionally musical, the Lumin P1 is an excellent example of modern, high-quality audio reproduction.
It doesn't really matter what you want to do with the Lumin P1, because you always feel well entertained here.
Note that since the review was published, the ability to hold the Remote Control volume button down for large changes has now been added via firmware update.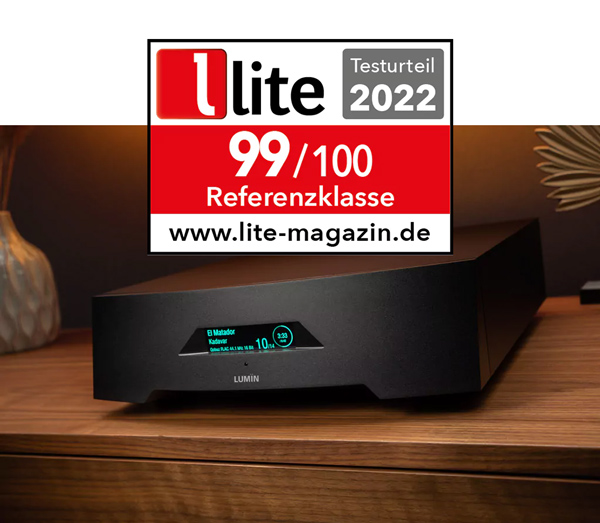 THE FULL GERMAN REVIEW CAN BE READ HERE
AUDIOTECHNIQUE
February 2022
Audiotechnique have featured LUMIN P1 on the cover of issue #485 Inside is a full 8-page P1 review!
During the review they state:
Re: Analogue inputs: Although the vinyl record has undergone two conversions, the sound still has a high degree of fidelity, ... are organized and clear, the soundstage opens wide and dynamic, it can be seen that the conversion process does not cause obvious distortion. On the contrary, when the vinyl phono preamp is output through P1, the gain is slightly increased, and at the same time the music maintains its background darkness. It sounds like converting from analog to digital is not necessarily a bad thing.
After ten years of honing a sword, LUMIN P1, which integrates the essence of the flagship and then evolves, is really wonderful!
P1 can be said to live up to expectations!
Finally, I can only advise interested readers not to hesitate any longer.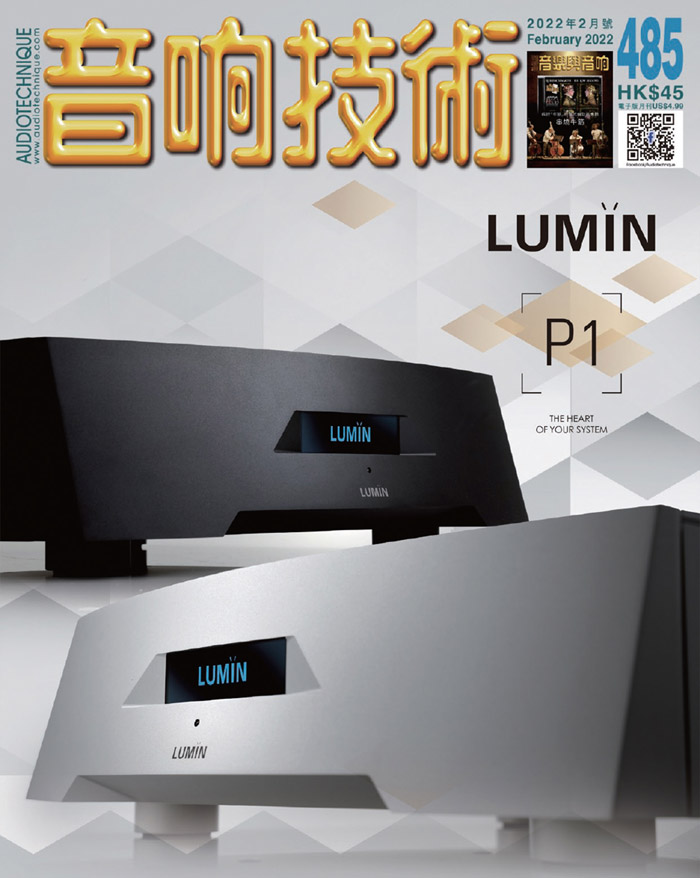 THE FULL CHINESE 8-PAGE REVIEW PDF CAN BE DOWNLOADED HERE
HAUTE FIDÉLITÉ
January 2022
Haute Fidélité have published their glowing review of LUMIN P1
During the review Bruno Castelluzzo states:
The P1 benefits from Lumïn's immense experience in the field, whether in terms of hardware or software.
Listening to the Lumïn P1 makes us feel clearly that streaming is entering a more mature era, where the faults that could have been attributed to digital playback have practically disappeared, as if by magic.
Lumïn P1, through the flawless design of its power supply, its racing dual-mono DAC, its precise clock and its output stages, is capable of remarkably fine dynamics. It's not a bully that over-forces dynamic momentum, as it sometimes does on high-end digital players; on the contrary, it delivers a flow of subtle sonic intensity, following the gradations of intensity easily, but deploying all the energy when necessary.
We are truly under the spell listening to the best files, where the P1 develops all its musical sense, its tonal richness, its qualities of spatial ventilation and its dynamic ease.
Perfection comes at a price, but you won't be disappointed.
ISSUE 255 IS AVAILABLE NOW.
6MOONS
January 2022
6moons' Srajan Ebaen tries bypassing pre-amps with LUMIN P1 and likes what he hears:
If I owned P1, I'd run it amp direct and retire my separate linestage. Period.
Amp direct sounded more articulate, firm, fully arrived and physically here than detouring through my favorite preamp in our collection.
For those downscaling their hardware count but unwilling to sacrifice sound quality, Lumin's P1 would seem to be an ideal mix of features and pedigree.
Running P1 amp-direct was even more direct, open, exciting and in-the-room present. That was unexpected news to me.
Now P1 is shorthand for Perfect One.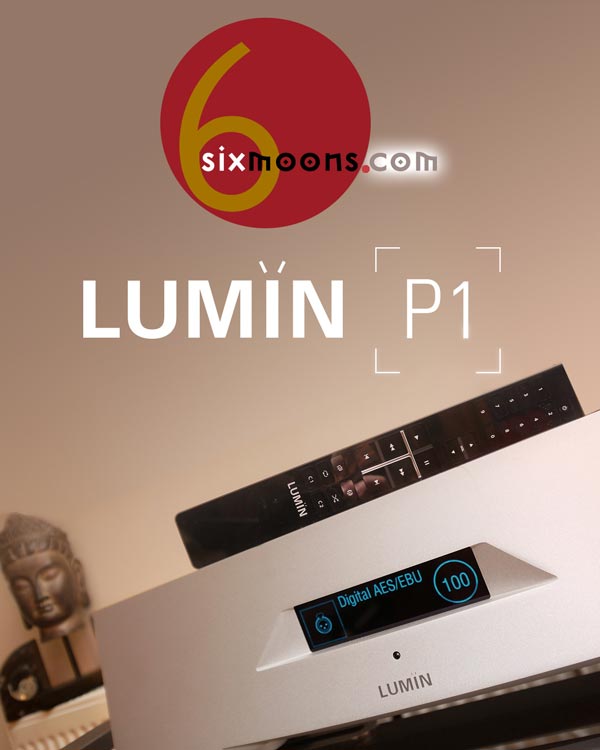 VIEW THE FULL REPORT
HIGH FIDELITY
January 2022
Red Fingerprint Award
The first LUMIN P1 review also provides its first award! High Fidelity have awarded LUMIN P1 their coveted Red Fingerprint!
During the review Wojciech Pacuła states:
Lumin P1 has shown that the true resolution lies in the millions of small details that make up information, and only the information makes up the sounds. The player from Hong Kong is perfect in this respect.
...open and clear, but never aggressive ...its harmonic richness was excellent.
In conclusion, the P1 is an exceptionally successful file player, its sound is on the one hand very smooth, maybe even warm, and on the other hand it is open and very dynamic. Its designers managed to "catch" a good balance between these two elements, and the result is a very universal, emotionally marked message. A well-deserved 'RED Fingerprint' award.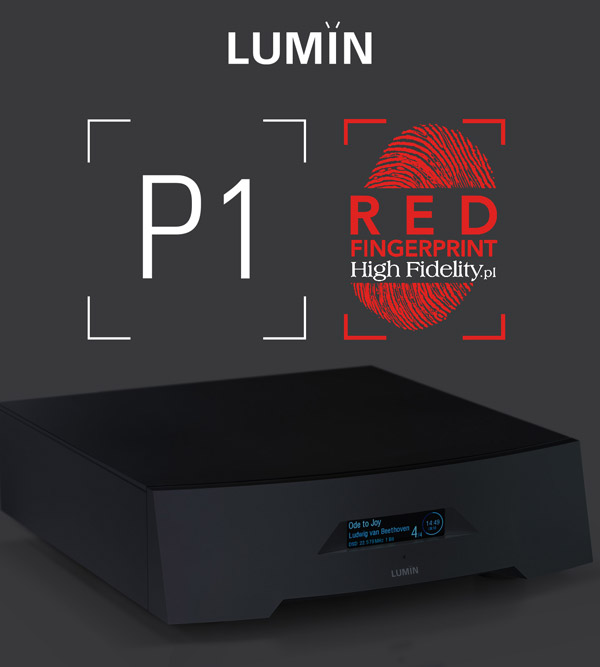 READ THE FULL REVIEW IN ENGLISH
READ THE FULL REVIEW IN POLISH